We are your trusted local jewelry store in The Dalles, OR.
Top Rated Jewelry Store In The Dalles, OR
We are a top rated jewelry store in The Dalles, OR we specialize in engagement rings, loose diamonds, wedding bands, diamond earrings and more. We have nothing but the highest quality of jewelry designs for any occasion.

About
J D Smith Jewelers
J D Smith Jewelers a family owned and operated jewelry store. Our family has been providing the highest quality jewelry and service for 60 years in The Dalles Oregon. Diamonds direct from the diamond cutting centers around the world. Fine Jewelry of gold, platinum, and Sterling Silver. Custom designed jewelry.
Learn More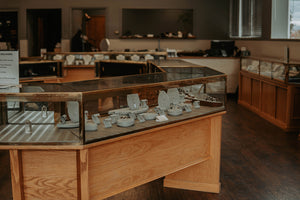 What Our Customers Say
This place is great highly recommend them if you need your rings fixed or to get a new wedding ring. Amazing and nice people to do business with.

Gretchen Nunn
JD Jewlers helped my husband and I trade some old scrape gold jewelry for a replacement wedding band. Their professional knowledge helped us choose just the right style and color for our budget. We recommend JD Jewelers.

Marie Connell
Visit Our Jewelry Store
We utilize the most modern laser welding equipment to repair your jewelry. We work in all precious metals including gold, silver and platinum. You can trust us to repair your family heirlooms with precise welding techniques available.
Contact Us
Contact Us
Looking For A Jewelry Store In The Dalles, OR?
Our top priority is our customer, so if you ever have a concern, question or comment please contact us and we will be more than happy to assist you to answer all your questions. We've helped thousands of shoppers just like you, and they love every minute of it.
Schedule Appointment